A CONSCIOUS LIVING PRACTICE FOR TODAY – OCTOBER 25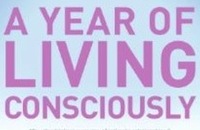 God respects me when I work, but lie loves me when I sing.
– Rabindranath Tagore
BUSY-NESS AND STRUGGLE
Many people use being overly busy to avoid looking at key issues in their lives that need to be addressed directly. The same is often true for struggle. Many of you turn life into an unnecessary struggle, trying to prove to yourself and others how hard you're trying, when in reality all you're doing is burning up energy to avoid facing reality. The person on the path of conscious living treats busy-ness and struggle as addictions. If you give up the addiction, you'll finally get to address the issue that started you on the addiction. If you let go of struggle and quit over-committing yourself, you may find that you've been burning excess energy to keep your attention off truly important issues. Avoiding big issues such as expressing your creativity and handling painful relationship conflicts often provides the fuel for much unnecessary struggle and busy-ness.
A CONSCIOUS LIVING PRACTICE FOR TODAY – OCTOBER 25
Pause for a moment to tune in to your body/mind. Check in and notice any sense of struggle in yourself. Notice the energy of busy-ness. Consciously let go of those for a moment and ask yourself a broad question: Do I use struggle and busy-ness to avoid handling aspects of my life that I ought to slow down and take a look at?
Purchase "A Year of Living Consciously" by clicking the cover below: