A CONSCIOUS LIVING PRACTICE FOR TODAY – OCTOBER 27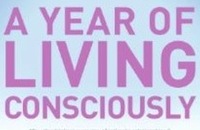 Then I saw you through myself, and found that we were identical.
– Fakhr Ad-Din
RELATIONSHIP AS MIRROR
Many times in couples counseling I've seen people mired in conflict, only to discover after a session of therapy that they were actually sharing the same fear. For example, one person may be upset about money, while the other is upset about sex. Yet when they get beneath these surface struggles, they both find they are scared about some third issue they hadn't been aware of. Perhaps they were both afraid of life being out of control or afraid they would die without fulfilling their dreams. Because they did not know how to face this deep fear, they focused on a familiar squabble—sex or money. Once you get beneath the surface in any relationship, you may find you are much more like the other person than different.
A CONSCIOUS LIVING PRACTICE FOR TODAY – OCTOBER 27
Think of someone with whom you struggle. Ask yourself: If I were not focusing on our differences, how am I exactly the same as him or her? Are we upset about the same thing, and only choosing to express it differently?
Purchase "A Year of Living Consciously" by clicking the cover below: