A CONSCIOUS LIVING PRACTICE FOR TODAY – OCTOBER 28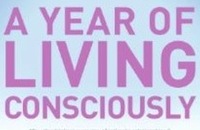 The environment is everything that isn't me.
– Albert Einstein
EVERY ACT OF HELPFULNESS IS A GIFT TO YOURSELF
A true fable: Once upon a time a depressed man called his friend, a therapist. He talked about his sadness, his anger, and his low station in life. The therapist listened. The man went on to describe how nobody liked him, he was underpaid, and his apartment was crummy. The therapist listened some more. Finally the man asked the therapist's advice. The therapist asked him if he had noticed anything in his neighborhood that needed fixing. After a long pause, the man said he'd noticed that the area around an elderly neighbor's front door needed sweeping. The therapist suggested the man go downstairs and sweep it carefully, and offered to wait on the phone until the man accomplished the task.
After ten minutes or so, the man came back and reported the task completed. There was a new energy and lilt in his voice. His depression had lifted through a simple act of service.
A CONSCIOUS LIVING PRACTICE FOR TODAY – OCTOBER 28
Look for acts of service you could carry out today. Perhaps you'll see small ones, such as a pencil someone dropped on the floor that you could pick up and put away. Or perhaps you'll notice larger ones, such as a person in distress. Notice how you feel after you carry out each act.
Purchase "A Year of Living Consciously" by clicking the cover below: