A CONSCIOUS LIVING PRACTICE FOR TODAY – OCTOBER 29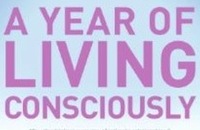 If you are unhappy, you are too high up in your mind. – Carl G. Jung
THE BODY SENSATIONS OF HAPPINESS
One way of understanding Jung's quotation is to realize that concepts, which live "high up in the mind," are by nature cool and dry rather than hot and juicy. That's their strength and their weakness. You can plan a meal quickly because your conceptual mind works at lightning speed, but if you stay high in your mind when you eat that meal, you won't enjoy it and you might get indigestion. Your ability to savor life's experiences, whether food or love or music, comes from dropping down out of the sky of your mind onto the ground of your body.
That, of course, is where the pain is, too. When you come down out of the cool cerebral world into the heat of emotionality and sensuality, you descend through the same feelings that made you flee up into your mind in the first place. Once you learn how to breathe with your pain, though, there is a vibrant field of happiness to be savored.
A CONSCIOUS LIVING PRACTICE FOR TODAY – OCTOBER 29
In your body, you can feel happiness. In your mind, you can think thoughts about your happiness. If you had to pick one, which would it be? Fortunately, you have the power to do both, so no choice is necessary. As you move through your day, notice that you can choose to focus on the body sensations of happiness. You may realize that they're there all the time—it just takes practice to feel them all the time.
Purchase "A Year of Living Consciously" by clicking the cover below: