A CONSCIOUS LIVING PRACTICE FOR TODAY – OCTOBER 30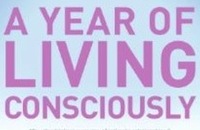 All thought is feat of association: having what's in front of you bring up something in your mind that you almost didn't know you knew.
— Robert Frost
THE ONE PLACE YOU CAN'T SEE
If you took a drivers education course, you probably remember a lecture on the blind spot, the place behind you and off to the side where your rearview mirror doesn't work. You have to look in your mirror and glance backward over your shoulder if you are to get a panoramic view of the situation. The same is true in living. Everybody has a blind spot…or two or three. Your blind spot is the place where you can't see the obvious. Some of the most gifted and talented people I've ever worked with also had some of the biggest blind spots. When you think about it, that's probably predictable. After all, the bigger the light, the bigger the shadow it throws.
None of you needs to feel bad about your blind spots. When you get defensive about them, they stay in place longer. What gets rid of your blind spots—what gives you 360-degree vision—is openness to learning. The only thing you have to do is get willing to learn whatever you need to learn.
A CONSCIOUS LIVING PRACTICE FOR TODAY – OCTOBER 30
Pause ten seconds now to make a commitment for today. Say to yourself, "I commit to learning from everyone and everything today." Return to this commitment often throughout the day.
Purchase "A Year of Living Consciously" by clicking the cover below: