A CONSCIOUS LIVING PRACTICE FOR TODAY – OCTOBER 31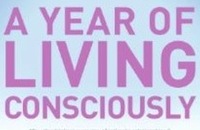 Oh, EVOLVE.
– bumper sticker seen on an old VW Bug
THE ONLY ROAD
Laura writes: I'm driving to the mall, one of those big, sprawling complexes that can sometimes induce a semi-panic attack if approached in the wrong mind-set. I'm chattering away to a friend about a page of Gay's I've recently read in which he talks about closet cleaning, ridding oneself of that which one doesn't absolutely love. It's been a goal of mine of late; I've promised myself that I will never again wear shoes that hurt or fabric that doesn't feel fantastic against my skin. As a woman, I have spent much of my life dressing to please others and being damn uncomfortable as a result. No more.
"You're going to be a granola-girl," my friend says, grinning. We both laugh, but she's admiring my goal. She rubs her feet (fortunately, I'm the driver) absentmindedly as we talk, saying that her feet always hurt from her shoes. I suggest she join me in this goal, and she shakes her head.
"I wouldn't know how to start being comfortable," she sighs.
I could think of a dozen suggestions, but what I hear in her voice is resistance, and so I don't make any comment. I feel saddened by her words, and strengthened in my own resolve.
A CONSCIOUS LIVING PRACTICE FOR TODAY – OCTOBER 31
Earlier in your journey, you may have gone through your clothing and rid yourself of pieces you didn't like. Today, focus in on one thing that brings you physical discomfort: it may be a piece of clothing (shoes, a tie, a tight watch) or it may be something you do (standing slumped over, breathing shallowly, or tightening your neck with tension). Make a conscious commitment for the next twenty-four hours to evolve, to stop wearing this item or living this behavior. Make it your priority to be aware of the ways in which you side with your physical enemies, and betray the enemies; break camp and join yourself, letting go of discomfort and feeling the experience of being comfortable in your own body.
Purchase "A Year of Living Consciously" by clicking the cover below: