A CONSCIOUS LIVING PRACTICE FOR TODAY – OCTOBER 8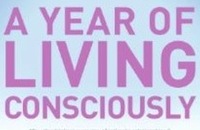 I think I want to be mad for just one more minute, or maybe a week.
— Timothy Joyce, age four
BREATHING IT OUT
Laura writes: He's sitting up on my bed, a solemn look on his face as he stares straight ahead. I ask what he's doing and he says, "I'm just being mad." After talking about why he's mad—and discovering that his anger is about something that happened days ago—I tell him that he can pretend his madness is right in his breath, and that if he opens his mouth and breathes out, he can get rid of that anger. I demonstrate, and smile to show him that I feel happy once the anger gets out. He watches me carefully and dubiously agrees that he's ready to lose the anger. He starts to imitate, and then stops.
"No," he says, folding his arms over his chest, a decision clearly formed now. "I think I want to be mad for just one more minute, or maybe a week."
Sometimes, even when you are given the chance to forgive, the tools and the opportunity to let go of the anger that builds up inside and tears you apart over time, bit by bit or in huge, biting chunks, you are not yet ready to free yourself from your anger. Better, then, to focus your attention on why you're holding on to your anger so carefully and jealously; better to pay attention to what's in it for you.
A CONSCIOUS LIVING PRACTICE FOR TODAY – OCTOBER 8
Think about something you've been angry or resentful about recently—something you've not yet let go completely. Spend a few minutes wondering about your anger: its excuse (the outer name you give to the conflict), its real roots, and why you're not choosing to let it go yet.
I say that my anger is about ________.
My anger is really about ________.
What I get from my anger is ________.
Purchase "A Year of Living Consciously" by clicking the cover below: