A CONSCIOUS LIVING PRACTICE FOR TODAY – SEPTEMBER 12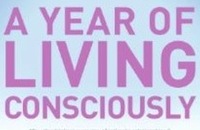 I always prefer to believe the best of everybody—it saves so much trouble.
— Rudyard Kipling
PRE-PAVING WITH APPRECIATION
Even a small amount of appreciation (if sincere) can create a wave of positive energy throughout the day. One of my friends has a technique he calls pre-paving, which uses the power of appreciation to enhance interactions with people. Here's how it works: In bed, before the day begins, he generates appreciations for key people he's likely to see that day. He focuses particular attention on people with whom he has difficult relationships. His goal is to send a wave of positive energy through the potential sticky places in his relationship with them. He makes extravagant claims for the benefits of pre-paving, and my experience with the technique supports his enthusiasm. Give it a try, and see if it works for you.
A CONSCIOUS LIVING PRACTICE FOR TODAY – SEPTEMBER 12
Pause for a minute to think through some of the interactions you're likely to have today. Think of some of the people you'll connect with, remembering to include some of those with whom you have difficult relationships. As you bring them to mind, imagine beaming a wave of appreciation at them. Feel a moment of genuine appreciation for each of them.
Purchase "A Year of Living Consciously" by clicking the cover below: