A CONSCIOUS LIVING PRACTICE FOR TODAY – SEPTEMBER 14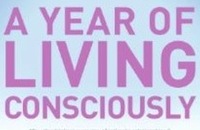 I got the sun in the mornin' and the moon at night. — Irving Berlin
THE APPRECIATION OF ORDINARY THINGS
Most of you are familiar with one definition of appreciation, the one that means to speak positively of someone or something. There's another definition of appreciation, though, that's also worth knowing. It's to be "sensitively aware" of something, as a movie critic might appreciate the way a film is edited, while others might not give any thought to its editing at all.
Being sensitively aware of the ordinary and overlooked parts of life can have a powerful benefit. A woman of my acquaintance spent a weekend at a sensory awareness workshop, during which she was given the assignment of spending an hour eating one fresh cherry. The exercise made such an impact on her that she lost thirty pounds over the next few months by practicing mindful eating. With no change in her diet or activity level, she eliminated a weight problem with which she'd struggled for years. By refocusing on what her body needed and by being totally focused on the experience of meeting the needs of her body, she redefined her relationship with food.
A CONSCIOUS LIVING PRACTICE FOR TODAY – SEPTEMBER 14
Do a thirty-second experiment in appreciation right now. Look around your environment until your eye lights on something ordinary—something you may have seen a thousand times before. Go to it and study it carefully for thirty seconds. Appreciate it, in the sense of being sensitively aware of it. If you like, pause for this experiment several times throughout the day.
Purchase "A Year of Living Consciously" by clicking the cover below: