A CONSCIOUS LIVING PRACTICE FOR TODAY – SEPTEMBER 17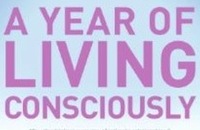 Knowledge of what is possible is the beginning of happiness.
— George Santayana
BECOMING A MOOD-SMITH
The student of conscious living is a keen student of moods. You need to know the major secret of staying in a high mood. You need to know what makes moods drop, so you can know what to do when yours does. Don't try to get your mood to stay the same all the time—moods are designed to fluctuate somewhat. Your job is to notice when your mood is dropping and take steps to rebalance before it starts affecting the quality of your day. The big mistake people make with their moods is trying to change them from outside. Advertising would like you to believe that satisfaction can be yours by lighting up the right cigarette, and that you can feel better by drinking the right brand of fizzy sugar water. But this is all a pack of lies. The main thing that causes your mood to drop is the moment you slip out of integrity. Do that and your mood drops like a rock.
A CONSCIOUS LIVING PRACTICE FOR TODAY – SEPTEMBER 17
Sharpen your sensitivity today to your moods. Notice the effects of the foods you eat and beverages you drink on your moods. Notice the effects of ignoring key feelings such as fear, sadness, and anger. Notice the effects of withholding truths from other people. As you learn to spot what makes your moods shift, you can take preventive action to stay high and clear.
Purchase "A Year of Living Consciously" by clicking the cover below: