A CONSCIOUS LIVING PRACTICE FOR TODAY – SEPTEMBER 18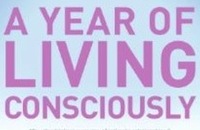 MORE ON MOODS
Integrity comes from a word that means "wholeness," so slipping out of integrity really means slipping out of wholeness. Your mood is an incredibly sensitive barometer to your state of integrity: any time you slip out of feeling connected to yourself, other people, or the universe around you, your mood will drop.
The first thing that will cause your mood to drop is ignoring a feeling. When you fail to acknowledge a feeling, when you override it or tune it out, your mood will drop. Understand—you don't need to act on feelings most of the time. You do not have to do anything with most of your feelings—they will blow right through like a breeze or a gust of wind. What you need to do is say hello to them and feel them. It is the act of ignoring them that causes moods to drop.
A CONSCIOUS LIVING PRACTICE FOR TODAY – SEPTEMBER 18
Right now, pause and tune in to your feelings. Use your nonjudgmental awareness to feel your "sensations and feelings. Throughout your day, pause occasionally to take this kind of "feeling snapshot." If you feel yourself slipping into a lower mood, be sure to pause for a tune-in.
Purchase "A Year of Living Consciously" by clicking the cover below: