A CONSCIOUS LIVING PRACTICE FOR TODAY – SEPTEMBER 2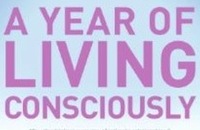 All the wonders you seek are within yourself. — Sir Thomas Brown
MIND/BODY/SPIRIT: AN ESSENTIAL UNITY
The fields of psychology and medicine have begun to take seriously what common sense has whispered in our ears for thousands of years: Body, mind, and spirit are linked in one whole we call ourselves. After much experience—with my own illnesses as well as with my clients—I have come to believe that the majority of our physical ills have their origin in emotional and spiritual issues we have not dealt with successfully. When your mind is confused, when your heart is heavy, when your soul is divided, you are ripe for illness to get a grip on you.
The next time you feel sick, pay close attention to all aspects of yourself. Certainly take your medicine and follow good medical advice, but also listen to the messages from your heart and soul. The last time I had a sore throat, a friend of mine performed an instant cure by asking me one question over the phone. It was: What are you afraid to say? I reflected on it for a few moments, then told him about something I'd "been afraid to talk to my wife "about. I wanted to change some travel plans but hadn't told her because I was afraid she'd get upset. As soon as I said it my throat began to clear. Then I went in the living room, took a deep breath, and told her. She had a momentary flash of irritation, but it soon melted and she felt fine about it. My throat had been speaking loudly, but through the medium of pain, and when I allowed my voice box to do the speaking, the pain disappeared.
A CONSCIOUS LIVING PRACTICE FOR TODAY – SEPTEMBER 2
Take a moment to float an affirmation through your mind: I pay attention to my body, mind, and spirit, and I listen carefully to messages from all of myself.
Purchase "A Year of Living Consciously" by clicking the cover below: