A CONSCIOUS LIVING PRACTICE FOR TODAY – SEPTEMBER 20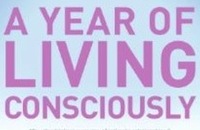 THE COST OF HIDING SIGNIFICANT FEELINGS
A significant truth can be large or small. Of course, you don't want to go around all day babbling every little thing that goes on inside you, but you do need to speak significant truths. I once felt angry at a close friend for what I perceived as a slight. He had failed to call me on my birthday, as was our custom, and I withheld it instead of telling him I was angry and hurt. Soon, I found myself thinking negative thoughts about him. Fortunately, I spotted what I was doing when my mood was turning bleaker and bleaker. When I finally noticed it, I traced backward in time and found the moment I had withheld the feeling. I took a deep breath and picked up the phone and told him how I was feeling. To my surprise he burst into tears. He was going through a crisis in his marriage—his wife had just told him she was involved with another man, and he had been wanting to call me but had been ashamed to tell me about "this. His withheld feeling had caused him to forget my birthday, and I, in turn, had made up my own drama about it. What could have turned into a lifelong saga was cleared up in ten minutes of communication. As a result, our friendship bond deepened.
A CONSCIOUS LIVING PRACTICE FOR TODAY – SEPTEMBER 20
Think of any relationships that have cooled or soured over the past couple of years. Ask yourself if it's been because of withheld feelings. If so, consider unburdening yourself to the key person involved.
Purchase "A Year of Living Consciously" by clicking the cover below: