A CONSCIOUS LIVING PRACTICE FOR TODAY – SEPTEMBER 22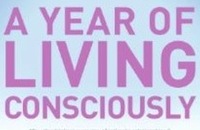 MESSAGES IN THE AIR
A scientific study done some years ago tells a lot about self-esteem problems. The scientists put small, voice-activated tape recorders on preschool children, then analyzed the tapes at the end of the week. Negative messages accounted for about 85 percent of the communications the children received: "Don't do that, quit it, be still, you're going to get hurt if you don't ________."
Conscious living involves becoming sensitive to the messages coming in at you every day, as well as becoming sensitive to the messages you're putting out into the world. You're a lot more sensitive to those messages than you probably realize. Surgeons, for example, are learning to be careful of what they say during surgery, lest negative messages get into patients while anesthetized.
A CONSCIOUS LIVING PRACTICE FOR TODAY – SEPTEMBER 22
As you move through your day, pay attention to the tone and content of the messages people give each other (and you). Pay close attention to the words coming from your mouth, also. Discover your ratio of positive to negative messages.
Purchase "A Year of Living Consciously" by clicking the cover below: