A CONSCIOUS LIVING PRACTICE FOR TODAY – SEPTEMBER 23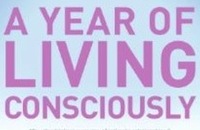 MAKING THE BIG DISTINCTION
If you look at childhood pictures, you'll usually see a lot more light and wonder on faces than you see on those same faces by high school. The main reason is that as you grow you buy into other people's perceptions of you. If you think of yourself when you were conceived, you were a tiny chemical explosion of possibility. But not too long after that explosion of possibility, you were immersed in other people's thoughts and feelings about you. Did they want you? Did they love you? Whether they did or didn't, it was still only their perception of you. This perception was based on finances, problems they were wrestling with, timing, and other factors. Chances are it had nothing to do with you "personally. They would have felt the same about anybody.
Part of the journey of conscious living is to separate who you actually are from who everyone else thinks you are. This distinction plays a role in every moment of your life.
A CONSCIOUS LIVING PRACTICE FOR TODAY – SEPTEMBER 23
Reflect on this question for a moment: Who am I apart from others' perceptions of me? As you go through your day, apply this question to the key people with whom you interact. Who would I be apart from what this person thinks of me?
Purchase "A Year of Living Consciously" by clicking the cover below: