A CONSCIOUS LIVING PRACTICE FOR TODAY – SEPTEMBER 25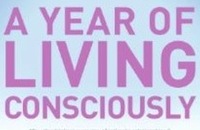 We never touch but at points.
—Ralph Waldo Emerson
MASTERING THE TWO DIMENSIONS OF RELATIONSHIP
When most people think of relationship, they think of the flow of connection and closeness. While it's an important part of relationships, being close is only part of the process. Intimacy also depends on learning to be autonomous. In other words, embedded in intimacy are two distinct urges: merger and individuation. Most of you have not been aware of or responded to the pull toward both these natural relationship pulsations. In fact, many people have learned to doubt their relationships if one partner wants to have separate time, interests, or friends. On the path of conscious living, it's important to discover your unique "relationship dance" and to make your relationships big enough to encompass the different needs for unity and individuation that occur between partners and over time.
A CONSCIOUS LIVING PRACTICE FOR TODAY – SEPTEMBER 25
Reflect for a moment on the way you've lived your relationship life. Based on your history, have you given more attention to merger or individuation? If you were rating each on a ten-point scale, what would your merger score be and what would your individuation score be? What can you learn from this that would be useful to you now in your relationship journey?
Purchase "A Year of Living Consciously" by clicking the cover below: