A CONSCIOUS LIVING PRACTICE FOR TODAY – SEPTEMBER 26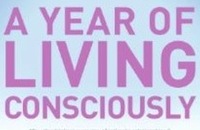 The secret of success is constancy to purpose.
—Benjamin Disraeli
GETTING COMFORTABLE WITH SUCCEEDING
As you become more successful, you may come up against the fear of abandoning others if you expand to your full potential. A successful entertainer of my acquaintance held herself back for many years by thinking this way. She unconsciously felt that if she kept herself unhappy and unsuccessful she would not have to leave behind people who were her friends when she was poor and struggling. She went through a period of punishing herself severely as she rose to greater success. Even after becoming a superstar, she felt miserable. Her mind had come up with the following twisted equation: even though I'm now wealthy and famous, if I can be miserable inside I won't be abandoning my old friends. In other words, if I can fail to enjoy my success, they'll forgive me for being rich and famous. With "a little help from her friends," she was able to let go of this way of thinking by having some conscious conversations with her old friends in which she shared her fears and found they loved her for herself, regardless of her success.
A CONSCIOUS LIVING PRACTICE FOR TODAY – SEPTEMBER 26
Look around you at the various indicators of your success (or lack thereof). Ask yourself if there are ways you hold yourself back for fear of leaving others behind. If so, ask yourself if you could deal with the fear some way other than holding yourself hostage.
Purchase "A Year of Living Consciously" by clicking the cover below: