A CONSCIOUS LIVING PRACTICE FOR TODAY – SEPTEMBER 5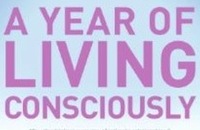 What is life, what is joy without golden Aphrodite? May I die when these things no longer move me: hidden love affairs, sweet nothings and bed.
— Mimnermus
SEXUAL VALUES AND THE VALUE OF SEX
Over the course of your life, the value you assign to sex, and the values that you relate to sex, can change. An example of the value you assign to sex: research shows that the typical teenage boy, for instance, thinks about sex every eight seconds. The adult who tries that is going to be mightily distracted from pressing issues such as work and family. As to values: a younger person might be more focused on the importance of "getting some" while an older person might be more focused on a merging of physical and emotional intimacy with his or her partner and the gestalt of sex: the means rather than the end.
It is essential, if you are to have a conscious sexuality, that you know yourself and that you be true to that knowledge of who you are and what you value, sexually and otherwise. In all areas, you often enter adulthood wearing the mantle of your parents' values, and while these values may work well for you, I believe it is essential that you arrive at your values after due consideration of what you want in your life.
This is conscious living: listening carefully for your own voice and then letting that voice sing out, whether the song is about your creativity, your intellectual self, your sexuality, your social self, or your physical self.
A CONSCIOUS LIVING PRACTICE FOR TODAY – SEPTEMBER 5
A value is a belief to live by, something you practice rather than something you just preach. What are your values when it comes to sexuality and sexual practices? Use the thought starters below to help you as you think about your values and your sexuality:
When it comes to sex, I believe that _______.
I would not be comfortable with _______.
A good sexual relationship requires _______.
Purchase "A Year of Living Consciously" by clicking the cover below: