A CONSCIOUS LIVING PRACTICE FOR TODAY – SEPTEMBER 6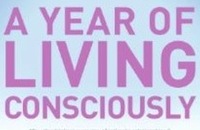 How could the drops of water know themselves to be a river? Yet the river flows on. — Antoine de Saint-Exupery
FINDING SAFETY THROUGH RESONANCE
The first lesson of conscious living invites you to resonate with life, and to feel your way through to the larger space of your whole self. Think of yourself for a moment as a beautiful acoustic guitar. Life is always playing your strings, and sometimes none too gently. If you try to arrange it so that life doesn't get to you—so that your strings are never plucked—you don't get to hear the music. If you let your strings go slack, through disuse or lack of care, you never get to know what you could sound like. If you keep yourself in tune, you can hear all the overtones and vibrations of yourself and your neighboring strings. It is the space within the guitar that makes the sound what it is. If you become sensitive, you can hear the silent space at the heart and soul of your instrument, the very source from which all sound emerges.
A CONSCIOUS LIVING PRACTICE FOR TODAY – SEPTEMBER 6
Put on a piece of instrumental music that you're fond of, close your eyes and listen to the instruments, listening for which one most calls out to you. Visualize yourself as that instrument, and imagine the care that must go into keeping your notes strong and clear and beautiful. Don't hurry or rush this exercise; take your time as you let the music fill you with the sound of essence.
Purchase "A Year of Living Consciously" by clicking the cover below: