A CONSCIOUS LIVING PRACTICE FOR TODAY – SEPTEMBER 9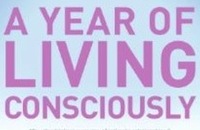 What are you pretending not to know?
— Graffiti discovered in Harvard Business School Lounge
THE OSTRICH MANEUVER
It takes energy—genuine physical energy—to avoid knowing things that you need to learn. Another way to say this is that you organize learning experiences for yourself, then refuse to get the lesson until it's administered by sledgehammer. Then you often say, "Why me?" This is the way of the ostrich, who deals with overstimulation by sticking its head into the ground. Trouble is, this maneuver exposes vulnerable parts of yourself to the breeze. There is only one way out of this dilemma, and that's to make an openhearted and open-minded commitment to learning what you most need to learn. When you make a full-scale commitment to learning from every interaction, life smooths out marvelously.
A CONSCIOUS LIVING PRACTICE FOR TODAY – SEPTEMBER 9
Say this sentence aloud and in your mind a few times, until you can feel it in your body: I commit to learning and growing from every interaction I have today.
Purchase "A Year of Living Consciously" by clicking the cover below: