Conscious Loving Ever After – Now Available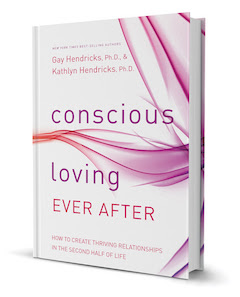 If you're over 40 (or know someone who is) we've got some big news for you: Our new book on relationships after midlife is now available!
Conscious Loving Ever After: How To Create Thriving Relationships At Midlife And Beyond
Some truly wonderful people are recommending Conscious Loving Ever After:
"We are living proof! We are so excited to recommend this book to everyone we know! The Hendricks have written many paradigm-shifting books about relationships, conscious loving, and more. In this new book, they illuminate the beautiful truth "that as you get older, your love life can get better. That instead of fading, your relationships can flourish." We didn't meet each other until Stephen was 57 so we are living proof that the Hendricks' amazing insights are a must-read for everyone!"
— Stephen and Lauren Simon
---
"In Conscious Loving Ever After, Katie and Gay Hendricks don't just give relationship advice, they radiate wisdom and joy on every page. This book will transform and enrich the way you and your partner experience each other—and yourselves. I hope you will read it, come to see love in a new light, and relish the opportunity to spend time with these incredible souls."
— Iyanla Vanzant, New York Times best-selling author of In the Meantime and One Day My Soul Just Opened Up
---
"If you ask me, Katie and Gay are the perfect exemplars of conscious, loving, ever evolving, and utterly fabulous relationships. When I grow up I want to be just like them. This wise, generous book shows you how to do what they've done and live with passion, clarity, and joy."
— Geneen Roth, author of Women, Food and God
---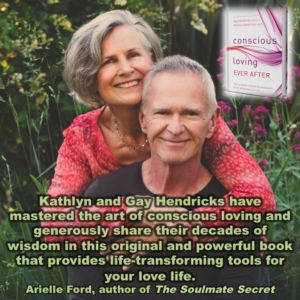 "Kathlyn and Gay Hendricks have mastered the art of Conscious Loving and generously share their decades of wisdom in this original and powerful book that provides life-transforming tools for your love life. Whether you've been married for years or are ready to re-enter the dating world, this book offers a clear path to creating the relationship of your dreams."
— Arielle Ford, author of The Soulmate Secret
---
"Conscious Loving Ever After provides couples and singles in the second half of life a joyful and creative map for the journey. If you want to make the most of your loving relationships at midlife and beyond, read this book!"
— Jack Canfield, co-author, Chicken Soup for the Soul® and The Success Principles™
---
"There isn't any fluff on these pages. Every section of this book is riveting and essential for anyone who is truly ready to adopt a new context for their relationship and life."
— Corinna Bloom
---
"In terms of its impact and inspiration, Conscious Loving Ever After is far beyond any other relationship book out there. It provides powerful tools and techniques, but much more importantly, it gives a roadmap for long-term relationships that takes couples directly back to passion, co-creativity, and aliveness."
— Julia Colwell, Ph.D.
---
"This book should be required reading for all couples, and anyone who wants to create a loving, lasting, satisfying relationship."
— Marc Rosenbush
---
To see all five videos from Conscious Loving Ever After, please follow this link to YouTube.
Thank you so much for your love and consciousness in our lives.
Love,
Katie and Gay