Posture Affects Standing, and Not Just the Physical Kind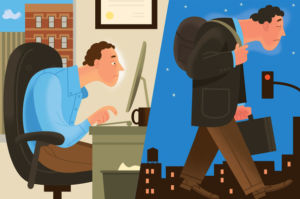 A distraught wife begged me to write about the importance of good posture. "My husband sits for many hours a day slouched over his computer," she said. "I've told him repeatedly this is bad for his body — he should sit up straight — but he pays no attention to me. He reads you every week. Maybe he'll listen to you."
So here goes: Yes, dear sir, listen to your wife. Slouching is bad. It's bad not only for your physical health, but also for your emotional and social well-being. More about this in a bit.
Without delay, get that computer on a proper surface (laps can encourage slouching) and get a supportive chair that enables you to sit up straight with your head aligned directly over your shoulders and hips when your eyes are on the screen.
As a short person who is prone to back pain, I have long been aware of the value of good posture, and seating that minimizes the stress on my spine and the muscles and ligaments that support it. I know within seconds of sitting in a car whether it will hurt my back or neck; when renting, I test car after car until I find one that suits my diminutive frame.
I bought my current vehicle, a Toyota Sienna minivan, largely because I was immediately comfortable when I got behind the wheel for a test drive. My entire back was supported, so not a twinge was felt there, unlike what happens in many other cars. I could also easily see over the steering wheel without tilting my head back, which is not the case in most other vehicles. And I could reach the floor pedals without unduly extending my leg and straining my lower back.
Poor posture can have ill effects that radiate throughout the body, causing back and neck pain, muscle fatigue, breathing limitations, arthritic joints, digestive problems and mood disturbances. It can also create a bad impression when applying for a job, starting a relationship or making new friends.
Poor posture can even leave you vulnerable to street crime. Many years ago, researchers showed that women who walked sluggishly with eyes on the ground, as if carrying the weight of the world on their shoulders, were much more likely to be mugged than those who walked briskly and purposely with head erect. I can't prove posture was at fault, but this is indeed what happened to a Brooklyn neighbor on her way home one night.
We live in a gravitational field, and when our bodies are out of line with the vertical, certain muscles will have to work harder than others to keep us upright. This can result in undue fatigue and discomfort that can outlast the strain that caused them.
READ THE FULL ARTICLE
By Jane E. Brody at The New York Times