BQ Summit Interview: Andrea Isaac
Empowered Living Through Body Wisdom
Broadcast on February 20, 2015
With a few simple tips, you can become familiar with the language of your body. If you've ever been frustrated, triggered by challenging people or situations, impatient, shy or angry and didn't like how you responded, join us and learn how listening to your body can help you transform disturbing emotions to emotions that reflect your best and highest self. Andrea Isaac's custom-designed system will guide you in embodying a new ease and joy in your relationships and with life.
Hosted by Mark Metz with Andrea Isaac
Andrea Isaac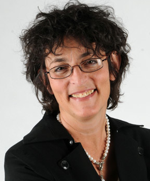 Creator of EnneaMotion, Somatic Focusing, and the EQ Quiz
Andrea Isaacs, international speaker, empowering facilitator and transformational coach, has been touching the lives of thousands of people in 25 countries since 1994. EnneaMotion, her unique body wisdom system based on the Enneagram, teaches how to embody the gifts of all Enneagram types, transforms shyness to confidence, anxiety to tranquility, judgment to acceptance, and to stop saying "Yes" when you mean "No." Using this system, she turned her life around by transforming her own painful shyness and bringing her message to the world: Change CAN be easy! Based on brain science, her system is fast, deep and life-changing. Her clients have said: "For the first time, I believe my opinions matter and that I matter," and "My inner critic has softened, and even when criticized, I maintain a deep acceptance of myself and others." In 1994, she became a founding faculty member for the Enneagram Institute, co-founding editor-publisher of the Enneagram Monthly and was on the IEA Board of Directors for six years. Her newest creation, the EQ Quiz (based on the Enneagram) is your emotional mastery blueprint. It shows how much and how little of each of the gifts and challenges you have of each type. Whether you already know the Enneagram or not, you'll be surprised at how this "pie chart" is like an MRI of your personality. Andrea is certified in both the Riso-Hudson and Palmer-Daniels traditions.
You can take her quiz for free at EQQuiz.com
Visit Andea's website: www.EnneaMotion.com
Link to audio of conversation:
Body Intelligence Summit Interview 2015 – Audio
Link to video of conversation:
Body Summit Interview 2015 – Video
Link to copy of the transcript:
Body Intelligence Summit 2015 – Andrea Isaacs – Transcript