Special Ed Teacher Compliments Every Single Student Each Day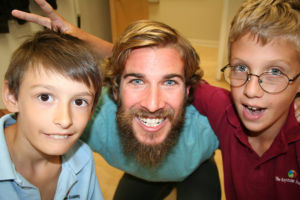 Love is the core value of this teacher's curriculum.
Special education teacher Chris Ulmer begins each school day at Keystone Academy in Jacksonville, Florida, individually complimenting each of his students for 10 minutes, The Mighty reported. Ulmer hopes to build confidence and self-esteem among his young students by reaffirming all their good qualities.
"Simple reminders of their positive attributes shifts [the students'] focus from what they can't do to what they can do," he told The Mighty.
Ulmer has been working as a special education teacher for the same group of students for the past three years, ABC News reported. Because many of the kids in his classroom previously experienced difficulties in school, Ulmer wanted to do something to make them feel self-assured, so he decided to start each day with one-on-one compliments. With the permission of his students' families, Ulmer put together a video of one of the compliment sessions and posted it to the Facebook page for "Special Books by Special Kids" — a project he is developing with his students.
Visit Facebook and see the video here.
Visit the Special Books by Special Kids Facebook page
Read the full article by Cameron Keady on Huffington Post