Cottages For Homeless People In Dallas Will Save Taxpayers About $1.3 Million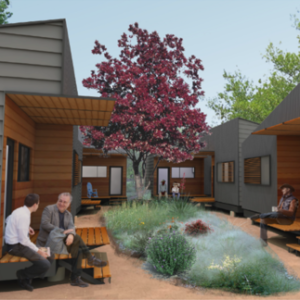 Dallas seems to have taken a cue from its neighbors in Houston on how to effectively tackle, and put an end to, chronic homelessness.
Starting November, 50 chronically homeless individuals in Dallas will each move into their own cottages in a complex that comes with green recreational space, solar energy and rainwater collection, among other green features, according to the Corporation for Supportive Housing. Residents will also have access to skills training and mental and physical health services, the Dallas Morning News reported.
In addition to giving homeless people a fresh start, the program will also save taxpayers a significant amount of funds.
A homeless person who cycles through the prison system and emergency health services typically costs the county about $40,000 a year, Keith Ackerman, executive director of Cottages at Hickory Crossing, told HuffPost. This innovative housing program will bring those costs down to less than $13,000.
That means about $1.3 million in total savings for taxpayers.
While locals will likely feel elated, the drastic figures aren't anything new.
READ THE FULL ARTICLE
By Eleanor Goldberg at Huffington Post