Day 27 – To experience heaven right now, live in completion.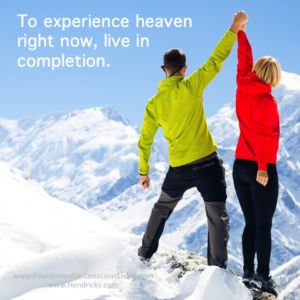 OUR BIGGEST RELATIONSHIP WOWS OVER 35 YEARS OF MARRIAGE
We celebrate our wedding through the whole month of October, and this year we wanted to create daily posts sharing the most important skills, practices and discoveries that have truly created Conscious Loving Ever After. Please enjoy and share.
TO EXPERIENCE HEAVEN RIGHT NOW, LIVE IN COMPLETION.
We savor the joy of giving and receiving more love in more ways every day.
We treat each interaction as if it might be our last.
We communicate feelings, thoughts and requests either in the moment or as soon as we see each other again.
We take each other in fully when we greet and do our best to light up each others full palette of senses every day as well as our own.
We listen for completion in our conversations and will often ask: Is there more you'd like to say about that?
We practice this is it. This moment will not be again.
How can you open to more timelessness in your relating by treating each moment as a doorway to your divine?—your choice.