Caring Communities: October 2019 Eco-Tip from Mari Heart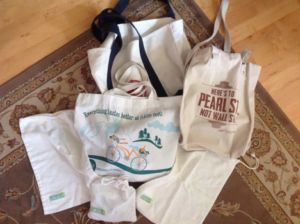 Humans are becoming more and more aware of the problems plastic trash creates on land and especially in our oceans. You can help reduce plastic use through simple, every day actions.
Try this: A great and easy way to reduce the use of plastic when food shopping is to take your own bags with you to the market. You can use natural fiber canvas totes for groceries. They are sturdy and when they wear out, a long time from now, they will be compostable.
Natural hemp fiber bags are great for produce. These bags are easy to pack, use, and wash. They are also quite long lasting. There are many sources for natural fiber bags. You can look for them at your local healthy food market, farmers market, or online.
Here is a link to some examples: Produce Bags
Happy eco shopping!
---
Mari Heart is a Hendricks Institute Leadership and Transformation Program Graduate