Day 1 – You Create Your Relationships One Choice At A Time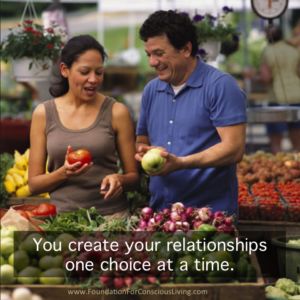 OUR BIGGEST RELATIONSHIP WOWS OVER 35 YEARS OF MARRIAGE
We celebrate our wedding through the whole month of October, and this year we wanted to create daily posts sharing the most important skills, practices and discoveries that have truly created Conscious Loving Ever After. Please enjoy and share.
YOU CREATE YOUR RELATIONSHIPS ONE CHOICE AT A TIME.
Several years ago a seminar participant came up to ask a question about the ACTUAL possibility of having a great relationship and said, "Well, it's easy for you to say cause you have a great relationship." We laughed at first, thinking she was joking, then sobered up when we saw she was seriously implying that we just kind of fell into our great marriage. After a few breaths, I shared this discovery. We, and you, create the quality of your relationships one choice at a time. You can open your heart, turn toward and connect with those you care about, or you don't. Thinking about your relationship, complaining about it, talking about it without doing anything different are very common and can seduce you into thinking you've actually done something to jazz up your relating. If you put your relationship first, your relationship will continue to blossom and radiate goodies for you and for those whom your relationship touches. If you go to sleep, so will your relationship. At any time, you can recommit to what you really want and start or continue making choices in that direction.