Day 2 – Being Right Isn't Worth It.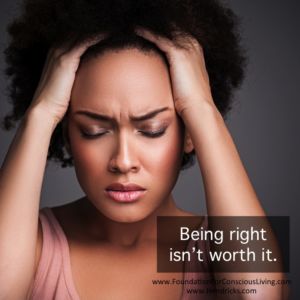 OUR BIGGEST RELATIONSHIP WOWS OVER 35 YEARS OF MARRIAGE
We celebrate our wedding through the whole month of October, and this year we wanted to create daily posts sharing the most important skills, practices and discoveries that have truly created Conscious Loving Ever After. Please enjoy and share.
BEING RIGHT ISN'T WORTH IT.
Let's give credit to the most popular relationship sport: being right. There are many, many ways to claim victory in the being right domain, including scorekeeping, criticism and corrections, interruptions, The Look and outright quarreling and yelling. You get one payoff, just one—the quick hit of adrenaline that surges and then subsides. Take a moment and soak that in. There is just one payoff for being right, and it wears off really quickly. The adrenaline hit gets habituated, so the level of drama needs to increase to get the same level of glee. Many people think that drama-free relating is not only impossible, it's BORING. What would you do if you weren't jockeying for who's right?! Well, you'd get to create real intimacy and trust, open to creativity and co-creativity, have lots of free time. We've found that being right erodes intimacy more quickly than anything else. Give yourself a gift by letting go of being right. You can be happy or be right—your choice.