Day 3 – Appreciating Gives You The Highest ROI Of Any Relationship Move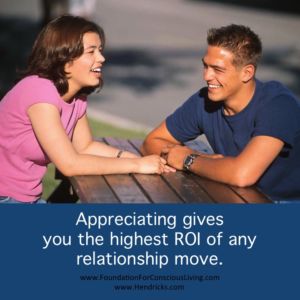 OUR BIGGEST RELATIONSHIP WOWS OVER 35 YEARS OF MARRIAGE
We celebrate our wedding through the whole month of October, and this year we wanted to create daily posts sharing the most important skills, practices and discoveries that have truly created Conscious Loving Ever After. Please enjoy and share.
APPRECIATING GIVES YOU THE HIGHEST ROI OF ANY RELATIONSHIP MOVE.
Appreciating gets a lot of lip service. Yes, we all know that in good relationships, people are nicer to each other. But what does that mean? It doesn't mean being superficial or ignoring what you're feeling. It's not the fly-by "love ya, babe." It does mean learning to give your sensitive attention to your beloved, friend, family or colleague. You learn how to focus on what is emerging, what your partner's essence qualities are and how you can support their blossoming. You give attention to what is working, the newest learning that your partner is mastering, the scary leap s/he managed with aplomb. All this blossoms through appreciation. Period. So easy, so little practiced. Genuine appreciations fill your good-feeling and intimacy reservoir so you can draw on those reserves when needed. Appreciating deepens your bond and creates openness and joy that you carry with you through your day. You don't have to wait for your partner to do something terrific to appreciate them. Appreciating is the water for the flowers in your relationship garden. Drought or bounty—your choice.