Day 4 – Saying Something Real Creates Right-Now Intimacy.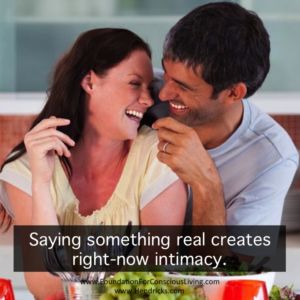 OUR BIGGEST RELATIONSHIP WOWS OVER 35 YEARS OF MARRIAGE
We celebrate our wedding through the whole month of October, and this year we wanted to create daily posts sharing the most important skills, practices and discoveries that have truly created Conscious Loving Ever After. Please enjoy and share.
SAYING SOMETHING REAL CREATES RIGHT-NOW INTIMACY.
One of our biggest relationship wows has been learning the power of authenticity. Being honest and transparent creates THE doorway to relationship magic. Something real doesn't have to be profound; it just has to be real. You notice what you're experiencing and describe it in a straightforward way.
I feel my cheeks getting hot.
I just had the thought "I don't know what to do."
I'm having the impulse to run out the door and can feel my breath shortening.
My palms are sweaty.
We've seen thousands of magical transformations happen on the spot when people choose to be honest. We've witnessed new relationships rise from the apparent ashes, intimacy recreated, discoveries sparking new choices, all from speaking from discovery rather than being right. It's a skill worth learning—your choice.