Day 5 – Committing Gets You Into The Game: Recommitting Lets You Create A New Game.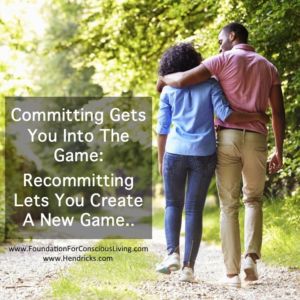 OUR BIGGEST RELATIONSHIP WOWS OVER 35 YEARS OF MARRIAGE
We celebrate our wedding through the whole month of October, and this year we wanted to create daily posts sharing the most important skills, practices and discoveries that have truly created Conscious Loving Ever After. Please enjoy and share.
COMMITTING GETS YOU INTO THE GAME: RECOMMITTING LETS YOU CREATE A NEW GAME.
Committing still has a pretty formidable rep—many people confuse it with being restricted and controlled. Or they think, if I commit then mess up, it's over. We've found that using the true power of committing is the key move to solve an issue or create something new in your relationships. Committing is an action you can take over and over, not a size-too-small jacket you wear because you said you would. When you commit, you take your whole body, heart and soul toward your desired direction. Then, get ready for your unconscious commitment to tickle or thump you. This happens–we are complicated mammals with all sorts of contradictory impulses, old stories and wounds. When you go off-track, you actually don't get more evolutionary kudos for landing in the ditch, even if in spectacular fashion. You don't get momentum for beating up on yourself or doing penance. You only get to keep creating when you REcommit. Simply turn toward your path again and take the next step. I know, doesn't sound dramatic or sexy. But it works, one recommitment at a time—your choice.