Day 11 – Attention is the currency of relationship.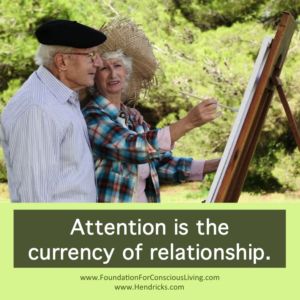 OUR BIGGEST RELATIONSHIP WOWS OVER 35 YEARS OF MARRIAGE
We celebrate our wedding through the whole month of October, and this year we wanted to create daily posts sharing the most important skills, practices and discoveries that have truly created Conscious Loving Ever After. Please enjoy and share.
ATTENTION IS THE CURRENCY OF RELATIONSHIP.
Most of us learned that grownups are supposed to be emotional islands, self-sufficient and independent. This strong belief has truncated a vital source of support that we all require lifelong as much as food and water—that's ATTENTION. Grownups need attention as much as little kids, really. Research is clear, and you can check this out in the laboratory of your life. Attention is the water that's feeds your relationship garden. Do an attention check today:
Do you give and receive attention easily?
Do you know the signals that your attention reservoir needs filling?
Can you ask for attention in a friendly way that's effective?
What are your rules and beliefs about attention?—and would you be willing to update those to get current?
You can fuel your close relationship with generous and curious attention starting right now—your choice.