Day 12 – Let your mate be your ally, especially when you're stuck.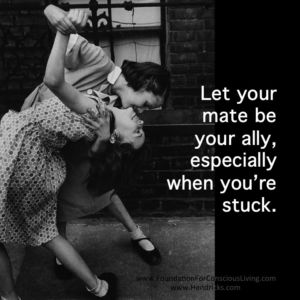 OUR BIGGEST RELATIONSHIP WOWS OVER 35 YEARS OF MARRIAGE
We celebrate our wedding through the whole month of October, and this year we wanted to create daily posts sharing the most important skills, practices and discoveries that have truly created Conscious Loving Ever After. Please enjoy and share.
LET YOUR MATE BE YOUR ALLY, ESPECIALLY WHEN YOU'RE STUCK.
When we decided to end blame and criticism in our relationship (yes, you too can do this), a tangential surprise occurred. We stopped seeing each other as the bad guy when we'd feel a jangle in our connection. The criticism habit is run by fear, and from fear glasses your partner immediately looks like the enemy. We spent some period of time shifting
From:
Why are you always criticizing me?!
To:
I commit to seeing you as my ally.
Realizing that each of us can actually take responsibility for seeing the other as a partner rather than a foe was incredibly liberating. We could generate connection and solutions so much more quickly and return to enjoying and collaborating rather than recycling and sputtering into power struggles. You can commit and recommit to seeing your partner as your ally—your choice.