Day 13 – Take on your partner as an appreciation project.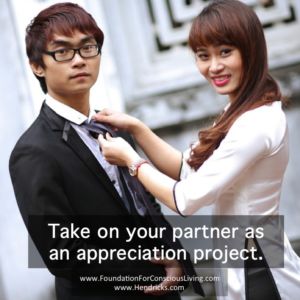 OUR BIGGEST RELATIONSHIP WOWS OVER 35 YEARS OF MARRIAGE
We celebrate our wedding through the whole month of October, and this year we wanted to create daily posts sharing the most important skills, practices and discoveries that have truly created Conscious Loving Ever After. Please enjoy and share.
TAKE ON YOUR PARTNER AS AN APPRECIATION PROJECT
If you are like most people, you intend to appreciate, you know how important it is, but you really don't have an expanded appreciation vocabulary and you get seduced by the siren-song of worry, complaint or the compulsion to point out your partner's faults. What's worse, lots of folks think that getting committed is a license to see your partner as your own personal little fixer-upper. The sport of mate-improvement is way more popular currently than the art of appreciating. If you commit (and then recommit—see Post #5) to appreciating as your lead move and your learning edge, your relationship will continue blossoming and expanding the magic of your relating. You can learn to customize your appreciation (see the easy way to do this in Conscious Loving Ever After), which gives your appreciations even more oomph for the move. And, if you give attention to appreciating, you'll see its positive impact pretty quickly—your choice.