Day 14 – Respond or react? In each interaction you grow or defend.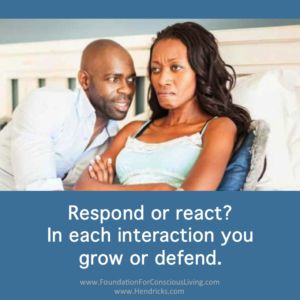 OUR BIGGEST RELATIONSHIP WOWS OVER 35 YEARS OF MARRIAGE
We celebrate our wedding through the whole month of October, and this year we wanted to create daily posts sharing the most important skills, practices and discoveries that have truly created Conscious Loving Ever After. Please enjoy and share.
RESPOND OR REACT? IN EACH INTERACTION YOU GROW OR DEFEND.
Let's get right to the acid test for your close relationship, for any relationship really–getting undefended in the right-now moments of your days. It's SO tempting to get righteous, indignant or downright peeved when it really looks like your partner is:
Picking on you…
Misunderstanding your perfectly innocent comment…
Not seeing your point of view, again.
There actually is a choice here that gets obscured by the vacuum-bag debris of defensiveness. Defensiveness is wired in; we get defensiveness when our nervous systems register an offense, real or imagined. What most people don't know is that you can learn to respond rather than react. Rather than a rat in the same old maze, you can grow your responsiveness and create new journeys, new adventures. Rather than the same old two-note nyah, nyah, nails-scraping sound of disharmony, you can create rich musical and varied harmonies with others. And each interaction is, you guessed it—your choice.