Day 16 – Wonder supplies the rocket-fuel for juicy relating.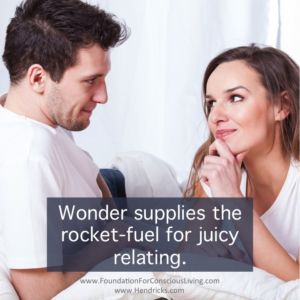 OUR BIGGEST RELATIONSHIP WOWS OVER 35 YEARS OF MARRIAGE
We celebrate our wedding through the whole month of October, and this year we wanted to create daily posts sharing the most important skills, practices and discoveries that have truly created Conscious Loving Ever After. Please enjoy and share.
WONDER SUPPLIES THE ROCKET-FUEL FOR JUICY RELATING.
Wonder is the opposite of blame. Wonder opens all your brain and body intelligence power to make new connections. When you wonder you see your relationship as a magical realm where creativity and possibility keep expanding. You can access wonder by creating a pleasant "hmmm…" sound through a whole out breath. You can't be critical while you're hmmm…ing—try it. Wonder moves you out of the state in which a problem gets generated, an Einsteinian move. The best all-purpose wonder question to follow your "hmmm" is:
Hmmm, I wonder what I can discover here?
You might find the need to wonder again and again, it's not meant to be a one-time tada move. Each time you wonder, you create new neural connections—your choice.