Day 17 – You can create exquisite variety without leaving your partner or having an affair.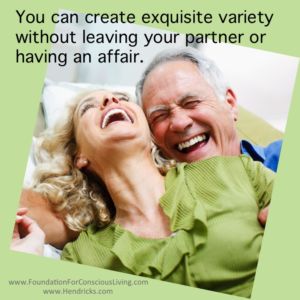 OUR BIGGEST RELATIONSHIP WOWS OVER 35 YEARS OF MARRIAGE
We celebrate our wedding through the whole month of October, and this year we wanted to create daily posts sharing the most important skills, practices and discoveries that have truly created Conscious Loving Ever After. Please enjoy and share.
YOU CAN CREATE EXQUISITE VARIETY WITHOUT LEAVING YOUR PARTNER OR HAVING AN AFFAIR.
The culture has imposed some stereotypical stodginess on committed relationships, especially long-term ones. If you've worried that dull routine will take over your intimate connection, or if you've been tempted to create a new level of juiciness by venturing elsewhere, take note of this amazing discovery we've found. You can recreate romance and spice over and over by attending to the most important sexual organ in your body—your voice box. When you give your attention to what's real right now and share openly vibrating your vocal chords in a way that matches your experience, you can recreate the thrill of connection throughout your whole life. Even something seemingly un-profound, such as "my hands are sweaty" or "I don't know what to do right now" can bring a fresh breeze through the windows of your relating. Real or routine—your choice.