Day 18 – Who loves ya, baby?!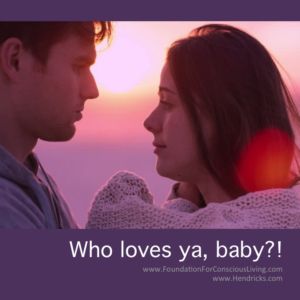 OUR BIGGEST RELATIONSHIP WOWS OVER 35 YEARS OF MARRIAGE
We celebrate our wedding through the whole month of October, and this year we wanted to create daily posts sharing the most important skills, practices and discoveries that have truly created Conscious Loving Ever After. Please enjoy and share.
WHO LOVES YA, BABY?!
People in close relationships often look for their partner to fill the love gaps in their hearts. That's a dead-end strategy. Everyone has gotten some wounds growing up, and those wounds distort a direct experience of loving yourself. Until you stop arguing with your innate lovability, you don't have enough bandwidth for conscious relationships. Over and over, we've seen clients sinking into the push-pull move: "please love me cause I don't; WAIT—I can't accept anyone's love for THAT! There must be something wrong with you or me, so I'll start an argument or withdraw now." So the biggest task throughout life is to own and expand your experience of loving you. This doesn't mean you excuse or overlook taking responsibility and being a grown-up. It does mean resting in a felt experience that you love yourself, which allows you to come to your close relationships as a whole person who's growing and tender with you. Sucking up love through a leaky straw or growing more love all the time—your choice.