Day 19 – You need to tussle–just like other mammals.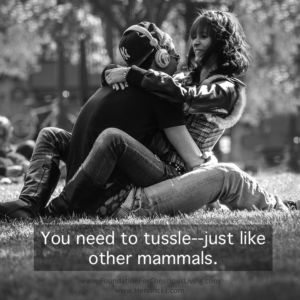 OUR BIGGEST RELATIONSHIP WOWS OVER 35 YEARS OF MARRIAGE
We celebrate our wedding through the whole month of October, and this year we wanted to create daily posts sharing the most important skills, practices and discoveries that have truly created Conscious Loving Ever After. Please enjoy and share.
YOU NEED TO TUSSLE–JUST LIKE OTHER MAMMALS.
We humans like to connect with our weight, to feel the impact of being fully met in our physicality and embodied presence. When our cats do this, we call it tussling, and it's really a form of play that many grownups don't give themselves. Most people confine their play to games, word play or external entertainment like movies. You can generate a deep connection by creating your own forms of friendly tussling. For example, dropping the words out and standing shoulder to shoulder leaning into each other, or pushing against each other's hands in a satisfying way can jumpstart a new thrill and interrupt routine relating. Slogging or playing—your choice.