Day 20 – You can discover the whole cosmos through your partner.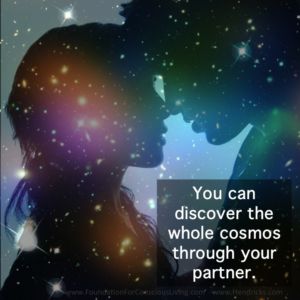 OUR BIGGEST RELATIONSHIP WOWS OVER 35 YEARS OF MARRIAGE
We celebrate our wedding through the whole month of October, and this year we wanted to create daily posts sharing the most important skills, practices and discoveries that have truly created Conscious Loving Ever After. Please enjoy and share.
YOU CAN DISCOVER THE WHOLE COSMOS THROUGH YOUR PARTNER.
Close relationship is your own personal spaceship that can take you to frontiers of consciousness and connection you didn't know existed. Complete transparency opens the portal. When you let your partner fully IN, your molecules learn to dance in new ways and to connect more fully. When you express transparently, free of any withholding, you connect with and also through your partner, who becomes a window to the cosmos. You can directly feel the abundant creativity of the universe through your partner's eyes and become all the men and women who might exist as you touch, laugh and share.
What does complete transparency look like? Just like a window that's been polished of dirt and debris. No energy goes into withholding or second-guessing. You are presencing yourself fully in this moment and connecting fully with your mate or friend. Then the space between opens and the cosmos pours forth. So through a glass darkly or into the endless frontier—your choice.