Day 22 – Sex can keep getting better and better throughout life.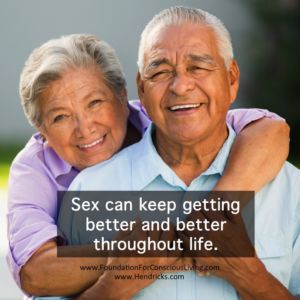 OUR BIGGEST RELATIONSHIP WOWS OVER 35 YEARS OF MARRIAGE
We celebrate our wedding through the whole month of October, and this year we wanted to create daily posts sharing the most important skills, practices and discoveries that have truly created Conscious Loving Ever After. Please enjoy and share.
SEX CAN KEEP GETTING BETTER AND BETTER THROUGHOUT LIFE
Really. I know, sounds impossible and deluded. Doesn't the science say sexual attraction has already peaked, and at your age you're way past your expiration date?! If you commit and recommit to being real, expressing your creativity, appreciating you and your partner (and the world, for that matter), you keep getting juicier and more engaged. Creativity especially keeps expanding your presence and ability to engage and play more deeply. Appreciating grows your felt intimacy and replaces the need to correct, improve or complain.
The flow of energy you feel through your whole body becomes more and more delicious as you expand your awareness out to the edges of you. We feel the same thrill standing near each other or listening to each other's voices as we do in actual sex. If you are willing, you can get juicier, more free, more generous, throughout life—your choice.