Day 23 – Give and receive the balm of being deeply listened to.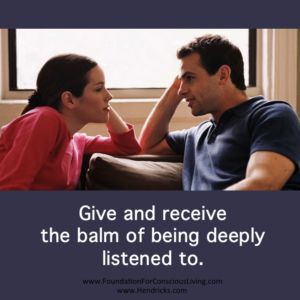 OUR BIGGEST RELATIONSHIP WOWS OVER 35 YEARS OF MARRIAGE
We celebrate our wedding through the whole month of October, and this year we wanted to create daily posts sharing the most important skills, practices and discoveries that have truly created Conscious Loving Ever After. Please enjoy and share.
GIVE AND RECEIVE THE BALM OF BEING DEEPLY LISTENED TO
We are resonating tubes that can hum or squeak, expand or recoil in retreat. When we are listened to with presence and curiosity, friction turns to flow and inner space is restored. So often the possibility of harmony gets quashed by listening filters such as what's wrong, business first and split presence. You can shift this common pattern any time by fully turning toward your partner and generating open curiosity. If you find your easy breath and give some loving attention to you, then your partner, you, then your partner, as you're listening, the ripples of connection spread deeply into your being and into your life. Generous listening fills both your emotional reservoirs and renews your energy for all the busyness of life. Having someone who values your discoveries and feelings, even your half-formed emerging experience, nourishes both of you. In each interaction you can be a source of drought or abundance—your choice.