Day 24 – Find out what delights your mate and do it.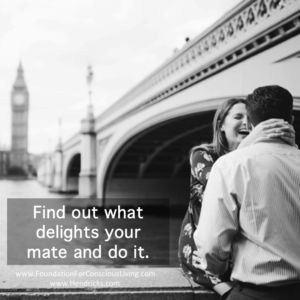 OUR BIGGEST RELATIONSHIP WOWS OVER 35 YEARS OF MARRIAGE
We celebrate our wedding through the whole month of October, and this year we wanted to create daily posts sharing the most important skills, practices and discoveries that have truly created Conscious Loving Ever After. Please enjoy and share.
FIND OUT WHAT DELIGHTS YOUR MATE AND DO IT.
You can be the source of ongoing pleasure and joy when you look for ways to make your partner laugh. If you prioritize customized gifts of joy, you make quantum jumps in your pleasure together. In our book Conscious Loving we included a commitment to having a good time along with commitments to reveal and take healthy responsibility. We have also written that we don't know the whole meaning of life, but we're sure it's not to have a bad time.
When you customize get really curious about what delights your mate. Some people love word play (Gay) and some love body jokes (Katie). I've seen people falling over laughing when their partners create exaggerated gestures and dances, where others might respond more to a spontaneous poem with just sounds. The possibilities are really endless and support more joy and fun. Delight or dismay—your choice.