Day 25 – Creativity can replace complaining.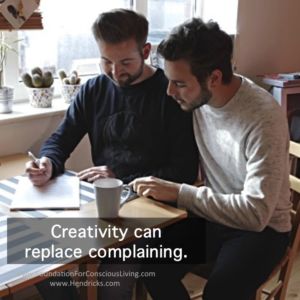 OUR BIGGEST RELATIONSHIP WOWS OVER 35 YEARS OF MARRIAGE
We celebrate our wedding through the whole month of October, and this year we wanted to create daily posts sharing the most important skills, practices and discoveries that have truly created Conscious Loving Ever After. Please enjoy and share.
CREATIVITY CAN REPLACE COMPLAINING.
In our newest book Conscious Loving Ever After we open with a chapter on creativity. If you were to make just one move to ignite passion and starve complaint, it's to commit to creating and putting creativity first in your own life. Partners who focus on creativity notice that complaints fade away—they often can't remember what they were complaining about. The act of creating, of noticing and engaging in what you love to do such that time disappears and energy increases, becomes a fountain at the center of your life and your relating. We've found that just ten minutes a day, preferably before charging into business, of focusing on creating gives you a new gyroscope that generates juicy connection first with you, then with others. And it's completely renewable by your choice to value your ongoing and lifelong creativity. Whether it's a new recipe, opening a journal and doodling, or sketching a new design on whiteboard, all creativity nudges complaint off the bench. Creative flow or complaining crunch—your choice.