Day 29 – Harmony happens when separate tones play together.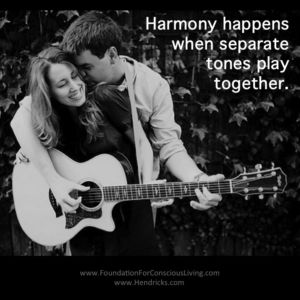 OUR BIGGEST RELATIONSHIP WOWS OVER 35 YEARS OF MARRIAGE
We celebrate our wedding through the whole month of October, and this year we wanted to create daily posts sharing the most important skills, practices and discoveries that have truly created Conscious Loving Ever After. Please enjoy and share.
HARMONY HAPPENS WHEN SEPARATE TONES PLAY TOGETHER.
If you think that you have to establish a Gregorian chant kind of relationship where you both adhere to one melody line of opinions about what's right—and serious–we have good news for you. Two full voices can create endless harmonies. If you hold back, suppress your own authenticity or get bogged in living through your partner rather than with, you recycle the kind of nails-on-a-blackboard interactions that deaden discovery. If, instead, you find and express your uniqueness out to the edges, you can attract a mate who resonates with your essence expression. In your committed relationship, you move into continuous co-creation of new melodies that ripple to all your circles of connection. We are in fact a collection of vibrations that can get amplified and refined in the presence of another song. You become an instrument that the universe plays in the orchestra of your relating. Plus, those spontaneous "songs" you co-create can be really thrilling to experience and enjoy in your body. They foster deeper intimacy and ongoing play, the tuning fork of delight. Monotony or polyphony—your choice.