Day 30 – Quantum shift alert – you can osmose love.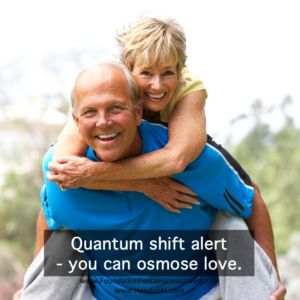 OUR BIGGEST RELATIONSHIP WOWS OVER 35 YEARS OF MARRIAGE
We celebrate our wedding through the whole month of October, and this year we wanted to create daily posts sharing the most important skills, practices and discoveries that have truly created Conscious Loving Ever After. Please enjoy and share.
QUANTUM SHIFT ALERT–YOU CAN OSMOSE LOVE.
Here's one of the most pervasive myths about relationships—it's just plain constant work and compromise. You could just let go of that obsolete notion. We've noticed, especially in recent years, that people open to learning can just GET IT, right now, in the company of other committed learners. We accelerate evolution together especially when everything can be taken in through whole-body exploration rather than just titrated through the head. In seminars we spend far less time in explanation and far more time in discovery and collaboration. Back in the day we called this "grokking"; now "osmosing" seems to express the flavor of easy assimilation. You can wonder about a skill or expansion you'd like to master and get willing to let it in to your whole being. If you're keen and leaning in, you can osmose nutrients and practices that continue to support your relationship flourishing—your choice.