Day 31 – Saying Yes Opens Endless Creativity—Tossing Turns Yes into Yes, And…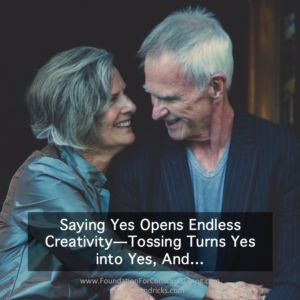 OUR BIGGEST RELATIONSHIP WOWS OVER 35 YEARS OF MARRIAGE
We celebrate our wedding through the whole month of October, and this year we wanted to create daily posts sharing the most important skills, practices and discoveries that have truly created Conscious Loving Ever After. Please enjoy and share.
SAYING YES OPENS ENDLESS CREATIVITY—TOSSING TURNS YES INTO YES, AND…
How much of your relating revolves around defending, jockeying for who's right this time, scorekeeping and tucking away tidbits you can use against your partner when you feel cornered? If your honest answer is anything more than "zero time," the Yes shift might rock your world. Saying yes to your partner creates heaven on earth. Saying yes means–
Turning fully toward your partner when you connect-
Taking in the yes-ness of your mate's experience free of your habitual filters-
Letting you be touched by the experience that s/he is having in the moment.
When you say yes back, sharing what's real right now in the feelings, images, wonderings that you experience, you toss the creativity ball back. That's the "and." Tossing and playing then become the hometown sport you keep polishing and enjoying. For example, we've gotten way more skilled at keeping the toss going, whether it's creating a spontaneous song together, taking an exploration into brand-new frontiers, or simply reinventing a favorite recipe. We think play can expand lifelong. If you are willing, you can create and co-create way beyond your current picket fence—your choice.