Day 6 – Blame and criticism are the junk food of relationships.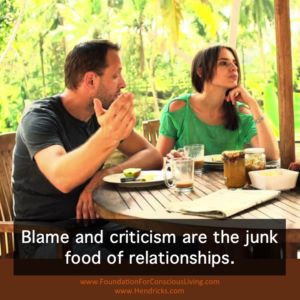 OUR BIGGEST RELATIONSHIP WOWS OVER 35 YEARS OF MARRIAGE
We celebrate our wedding through the whole month of October, and this year we wanted to create daily posts sharing the most important skills, practices and discoveries that have truly created Conscious Loving Ever After. Please enjoy and share.
BLAME AND CRITICISM ARE THE JUNK FOOD OF RELATIONSHIPS.
Ahh, the crackle of breaking open the bag of crunchy, salty, fatty yummies! Blaming and criticizing—you or others—releases a burst of adrenaline, which has about the same effect on the quality of connection as junk food does on your health. Let's just admit it—we're adrenaline junkies who keep escalating the dose. Why? Because adrenaline is a non-renewable resource, and when the dose wears off, escalation is the only move that keeps delivering the glee thrill. When we suggest that you can actually live free of blame and criticism in your close relationships, people either sink into stunned silence, scoff or start arguing that without this fuel relationships would be boring. We've learned, practiced and are now convinced that intimacy can be richly fueled free of blame and criticism (see Conscious Loving Ever After for a whole how-to chapter). Free of criticism, creativity, laughter, spontaneous discoveries and expanding ripples of contribution grow—your choice.