Day 8 – You can breathe your way into relationship bliss.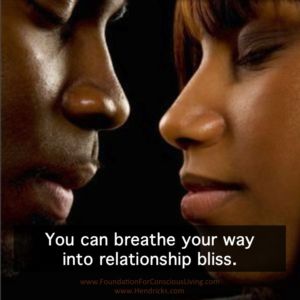 OUR BIGGEST RELATIONSHIP WOWS OVER 35 YEARS OF MARRIAGE
We celebrate our wedding through the whole month of October, and this year we wanted to create daily posts sharing the most important skills, practices and discoveries that have truly created Conscious Loving Ever After. Please enjoy and share.
YOU CAN BREATHE YOUR WAY INTO RELATIONSHIP BLISS.
Stress often makes us breathe up into the shallows of the chest rather than down into the space of our bellies. Or you might just stop breathing in a startle response, compress your breathing into invisibility or kink your aliveness hose by getting smaller. Open breathing in the presence of someone else creates a flow of connection inside and between you. With easy, relaxed belly breathing solutions open up much more quickly. When your breath flows, so does your relating. Since you take 20,000 or so breaths every day, you have lots of opportunities to practice. Here's WHAT to practice: let your spine move easily like seaweed bobbing in water, and let your belly relax on the in breath. Imagine breath filling your torso like a bottle, from the bottom up. Let your out breath leave like an accordion folding with sound. Allow the in breath to roll over easily into the out breath like riding a baby rollercoaster. See what opens up when you let breath support you—your choice.